Moisture Express Hydration Cycle Activation
" Bio-Hydro Moisturizing Series" New launch
Do you have the feeling that even after you have done the skincare, your skin is still dry, dull, or oily, and the fine lines are visible? When you have such problems and feel like hydrating skincare is never enough for you. That means the skin's hydration storage capacity is limited, which leads to quick hydration loss and incapability to keep the water in your skin.
Neogence's newly upgraded "Bio-Hydro Moisturizing Series" uses the new 6-4-1 Bio-Hydro Formula that simulates skin ecology and activates the hydration cycle, achieving complete skin miniaturization to restore firm, moisturized, translucent, and radiant glowed skin.
With the original intention to create safe and effective products, Neogence found through years research that traditional hyaluronic acid alone can either achieve comprehensive hydration or stabilize skin conditions. Therefore, the "Bio-Hydro Moisturizing Series" was born with the exclusive 6-4-2 skin stimulation Bio-Hydro formula. With 6 different types of hyaluronic acid, 4 different types of ceramides, and 2 essential vitamin C as the key ingredients to fully activate the skin hydration cycle, fill every gap with moisture to make your skin bright, radiant, and reluctant.
"Bio-Hydro Moisturizing Series "comes with "Bio-hydro moisturizing essential toner", "Bio-hydro moisturizing advanced reviving serum", "Bio-hydro moisturizing deep cream", and "Bio-hydro moisturizing radiant eye cream".

6 typed of hyaluronic acid:
High, intermediate, and low molecular weight hyaluronic acid to provide a full hydration supply. Patch H2O to form a hydration patch to prevent water loss, cationic hyaluronic acid to keep moisture tightly to the skin, and Cube3 to penetrate deep down to the skin to make skin plump.
4 types of ceramides:
With four most barrier-strengthening ceramides: NP、AP、NS、EOP, that help replenish the skin's lack of intercellular lipids and protect against external stimuli.
At the same time, preventing the skin from losing moisture and achieving complete skin moisturization.
2 Vitamins(B3&B5):
Vitamin B3 can improve dullness, and brighten and repair skin, while Vitamin B5 can quickly soothe irritation and stabilize sensitive skin.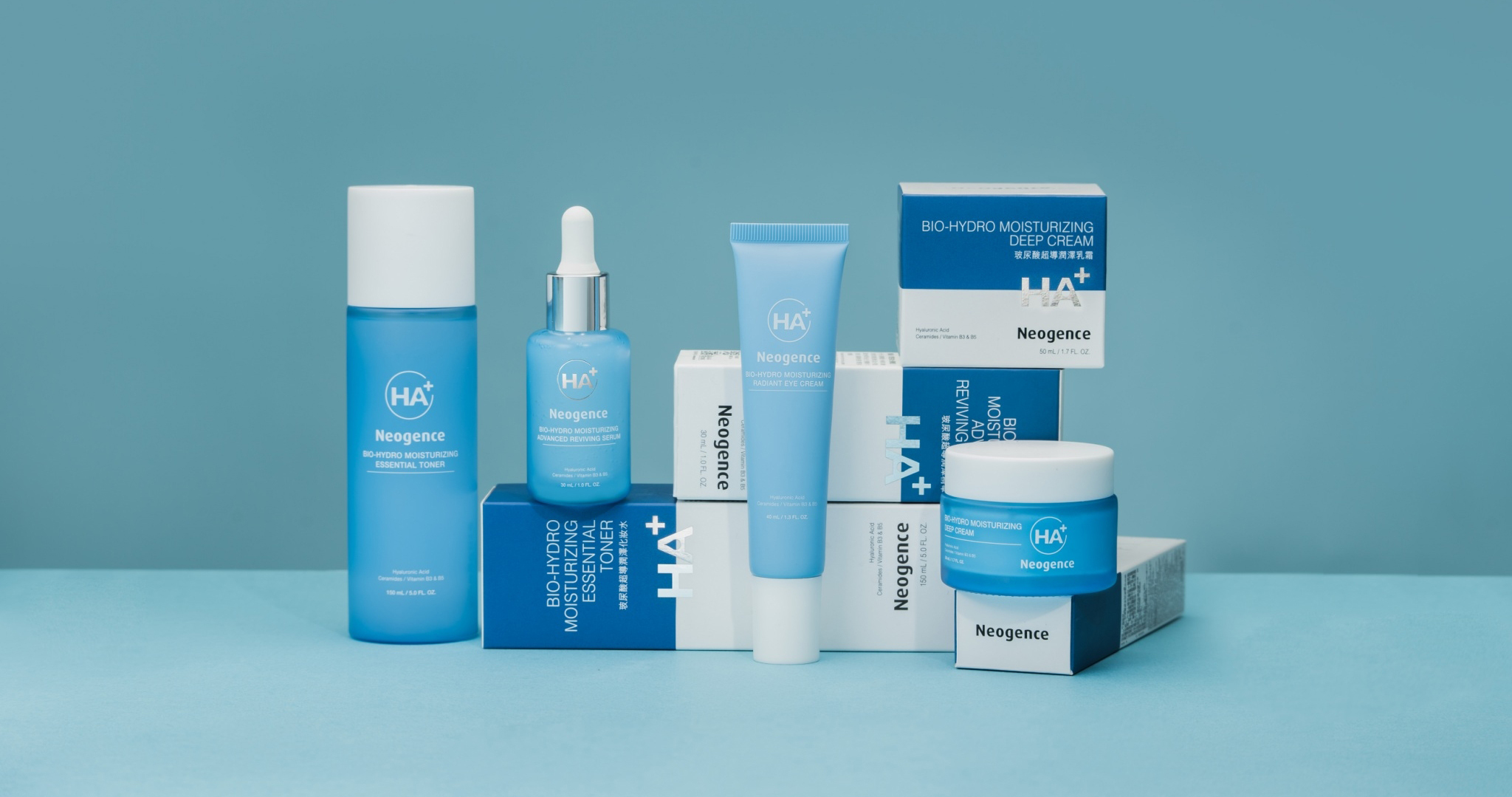 4 steps to end dehydration cycle
In addition to the 6-4-2 Bio hydro formula, Neogence "Bio-Hydro Moisturizing Series " also adds 3 Exclusive Plant Extract, Greece Frankincense, Finland Beech, and France White birch, to revitalize and rejuvenate.
Based on third-party notarised research, up to 90% of users' skins are visibly plump, and translucent after 7 day trial.
With just 4 simple steps, end the dehydration and keep your skin plump all day long.
The first step after washing your face, use the Bio-hydro moisturizing essential toner with a cotton pad. It can not only clean your face, but the dual oil ingredients: squalene x Lecithin can also repair the natural sebaceous membrane and open the skin oil and water dual channel, allowing necessary oil to absorb into the skin along with water. Maintain oil-water balance in your skin and improve the absorption of skincare afterward, completely eliminating oily dry skin!
To have perfect radiant and tender skin, the bio-hydro moisturizing advanced reviving serum is your must-have item. Crystalise activates the repairing factor in the skin, by gently metabolizing dead skin cells, it makes your skin look smooth and bright. Sake yeast and probiotics to nourish your skin, and rejuvenate your skin inside out.
The third step is with the bio-hydro moisturizing deep cream to lock the moist and resist external damage. Three kinds of pure plant oil: Argan oil x shea butter x Sacha Inchi oil rich in omega 3, 6, and 9, and colloidal oatmeal that can deeply moisturize, and enhance skin water lock and defense capacity. Completely solve the dryness problem and awake skin self-protect ability.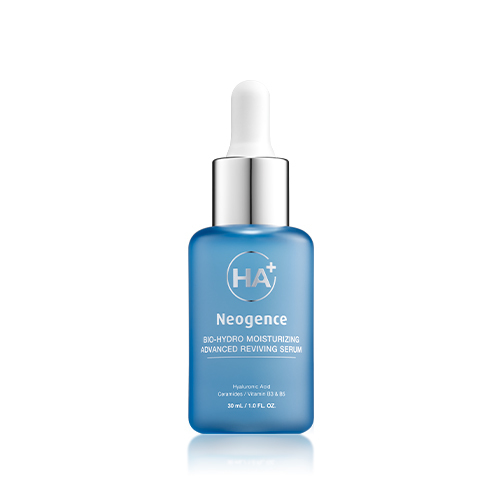 BIO-HYDRO MOISTURIZING ADVANCED REVIVING SERUM
BIO-HYDRO MOISTURIZING ESSENTIAL TONER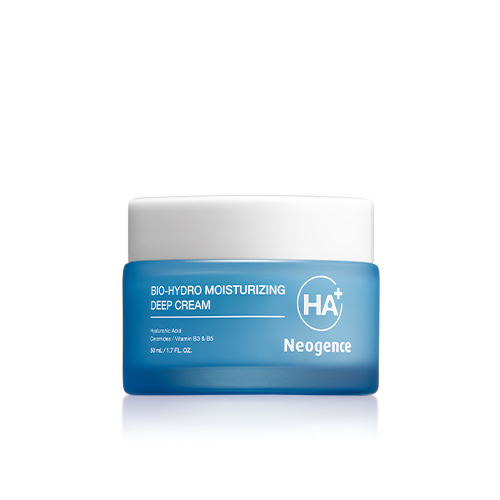 BIO-HYDRO MOISTURIZING DEEP CREAM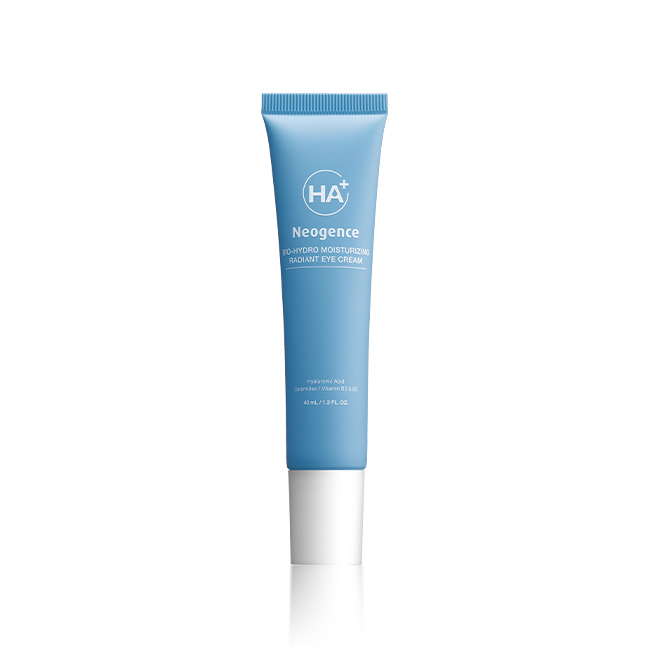 BIO-HYDRO MOISTURIZING RADIANT EYE CREAM