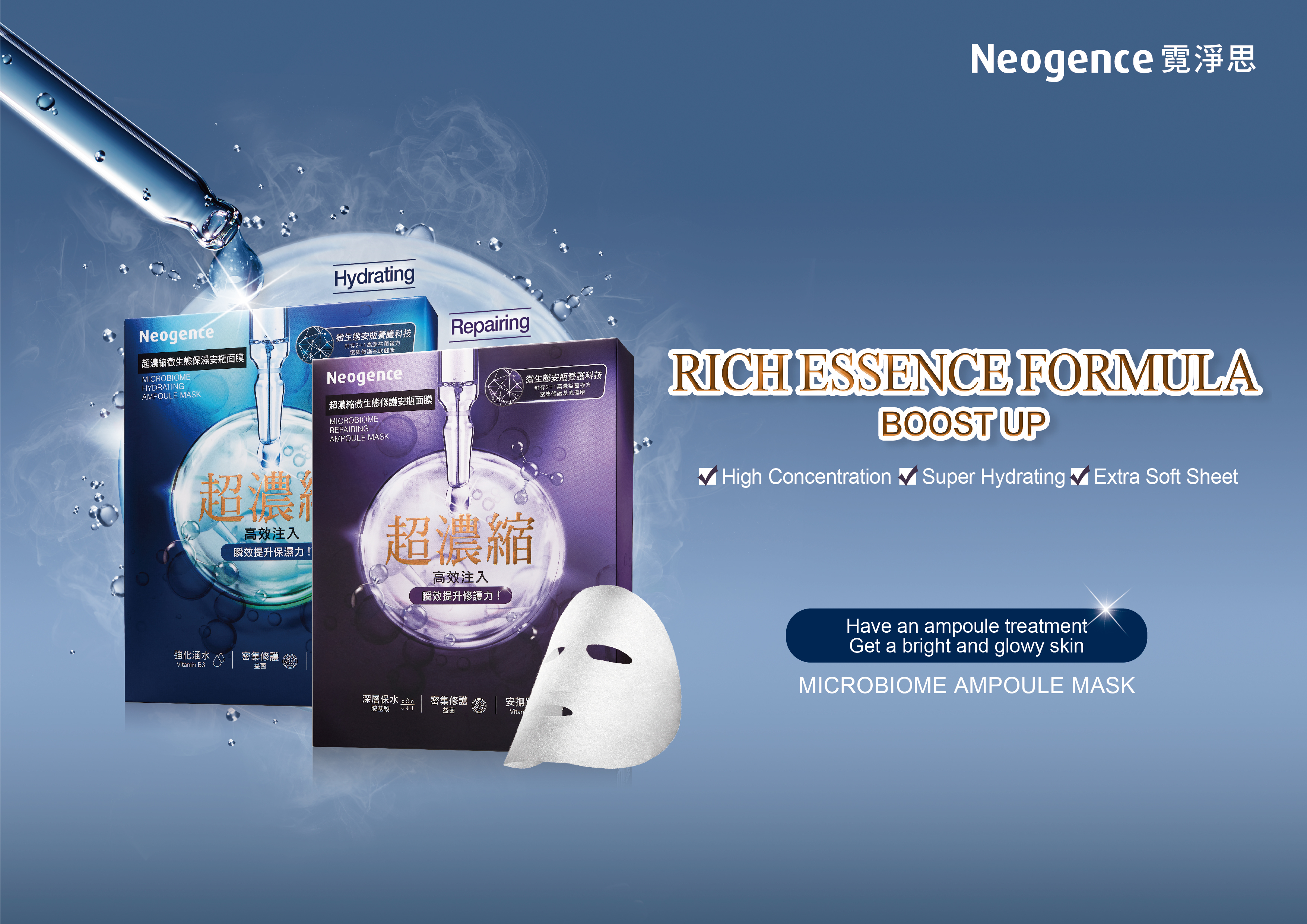 Have an ampoule treatment ! Get a bright and glowy skin!


「

MICROBIOME AMPOULE MASK SERIES

」New launch
According to survey, Taiwanese consume hundred millions of mask each year. However, if the skin condition doesn't improve after using masks, that means the skin microbiology has been unbalanced.
Neogence launched the new "Microbiome Ampoule Mask", including two different functions, hydrating & repairing, to tackle down skin microbiome unbalanced problem. Balancing skin microbiome, restore skin healthcondition with 2+1 Concentrated Probiotic Serum, effetively hydrate the skin and ameliorate sensitive skin and redness.
Apply an ampoule mask to have radiant skin and maintain a healthy micro-ecology from the outside to the inside!
Microbiome Mask to increase hydration and repairability, and stable skin microbology.
The first " microbiome ampoule technolgy" allows each mask to carry a whole bottle of highly concentrated ampoule serum.
The "2+1 Concentrated Probiotic Serum" contains Lady's Sake Lees, BIO Galactomyces, and epair Complex CLR™ PF to repair, hydrate, and protect your skin all at once, intensively repair the skin and balance skin microbiology.
TECHNOLONG® LADY'S SAKE LEES
Lady's Sake Lees originate from a 300-year-old sake brewery in Fushimi, Kyoto, Japan, which is famous for brewing sake from the clear, sweet water of Fushimi with the finest Japanese rice. Extracted from the sake yeast, Lady's Sake Lees is rich in glucoside ceramides, vitamins, minerals and organic acids. It helps to repair, moisturize skin and quickly improve skin damage caused by environmental factors!
BIO Galactomyces
BIO Galactomyces is the secondary metabolite of natural yeast galactomyces, which is rich in vitamin B1, B2, coenzyme Q10, minerals and other essential nutrients for skin.
It can effectively improve the water retention of keratin and activate the skin's self-balancing ecosystem. Also, it enhances the moisture of the skin, increases elasticity, and reduces dehydrated fine lines.
Repair Complex CLR™ PF
Repair Complex CLR™ PF is extracted from Bifidobacterium bifidum, which can effectively strengthen the skin's defense mechanism.
Not only can it protect skin from damages caused by environmental factors, it can also help with slowing down skin aging process.
2+1 Concentrated Probiotic Serum+ functional
ingredients
Neogence Microbiome Ampoule mask series is especially created for unhealthy skin, not only have they contain the 2+1 Concentrated Probiotic Serum, each function has additional ingreddients to quickly improve the skin micro-ecology and build healthy and beautiful skin.
🔵Microbiome Ampoule Hydrating Mask
Hyaluronic Acid Peptide to fully moisturizes skin and repair dehydration; Vitamin B3 to strengthen skin barrier and increases skin moisture
🟣Microbiome Ampoule Repairing Mask
Amino Acid to restore skin hydration and lock in skin moisture; Vitamin B5 to soothe irritated skin, relief itching and redness
Upgrade!

Japan Eucalyptus Mask Sheet

Microbiome Ampoule mask series use the 100% plant fiber Japan eucalyptus mask sheet, which is more fitted, absorable, lighter and more eco-friendly.
The Japan eucalyptus mask sheet has 8 times higher water absorption than regular mask sheet, which allows the essence to deeply and evenly penetrate into skin.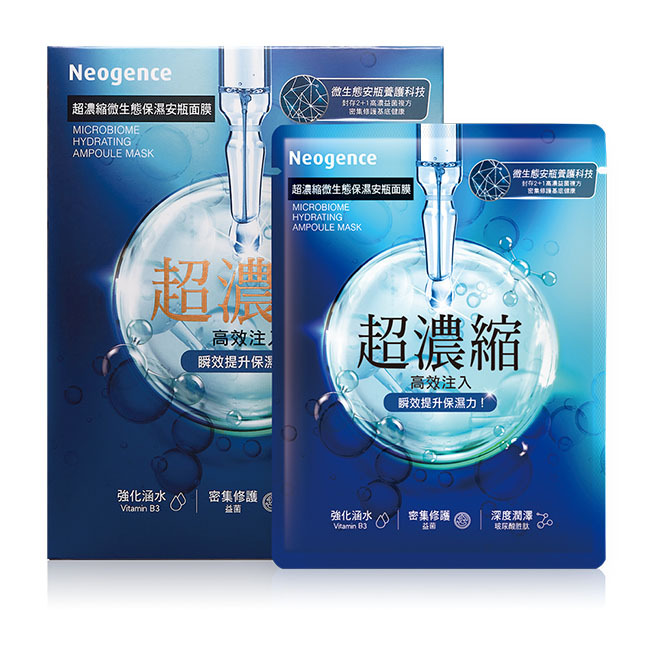 🔵Microbiome Ampoule Hydrating Mask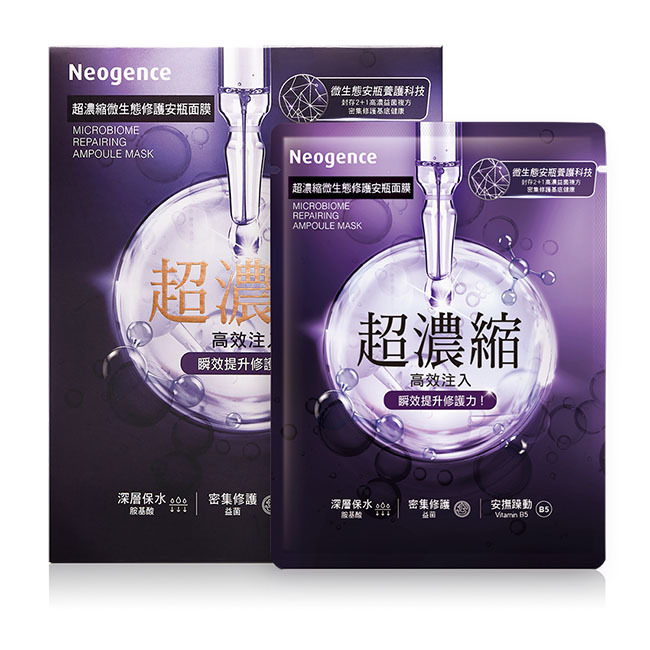 🟣Microbiome Ampoule Repairing Mask