"INSTANT WOW MASK SERIES" New launch
Rushing to work evey morning and staying up late at night? When you are too busy to do the skincare, making your skin dull and dehydrated . Neogence Instant Mask to the rescue.
With just one mask, it can instantly hydrate and brighten your skin. Making your skin hydrated and radiant
Desert plant extract・Instant Hydrate
The Instant Mask series use the desert plant extract as its main ingredients.
"Instant Bright Hydrating Mask" use the Myrothamnus Flabellifolia Extract , as known as resurrection plant, which is rich in polyphenols and algae sugars that could greatly improve dehydration and redness, soothing discomfort instantly and keeping hydrability in a perfect degree.
"Instant Glow Whitening Mask" use thr Agave Americana Stem Extract as its main ingredient, which could effectively protect from UV and environmental damage. Giving you the best protection and instantly making your skin bright.
"Instant Mask Series" also added multiple hydrating and brightening ingredients in addition to the desert extract. Effectively raising skin hydrability and brighteness.
● Instant Bright Hydrating Mask- Hydrating duo+double enzyme
Hydrating duo: Hyaluronic Acid+B5 to fully hydrate your skin. Pineapple enzyme and papaya enzyme to purify your skin condition.
Hydrate and repair your skin to make it healthy, glow, and elastic
● Instant Glow Whitening Mask- Double Brightening factors+Niacinamide
Tranexamic Acid + Ellagic Acid can reduce blemishes and uneven skin tone, restoring a radiant complexion.
Niacinamide added to sooth and effectively brighten.
Ultra Fit Transparent Mask Sheet
Austrian thin knitting technology. 9 times* lighter and thinner. Provides the most delicate care for your skin.
Contains 17 times* more essence. Deeply penetrates the skin. Greatly enhances moisturizing power.
Certified by Europe Environmental Label.100% biodegradable fiber. Comfortable and non-stinging.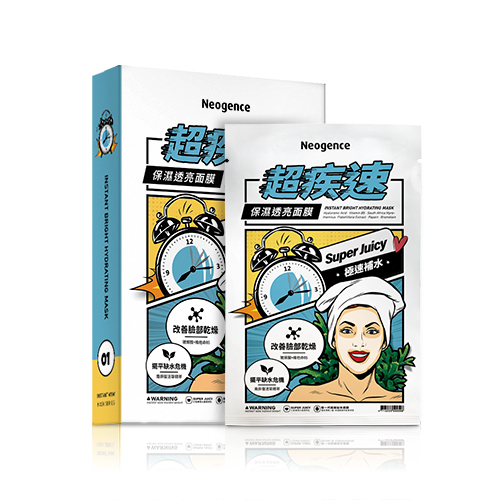 ● Instant Bright Hydrating Mask- Hydrating duo+double enzyme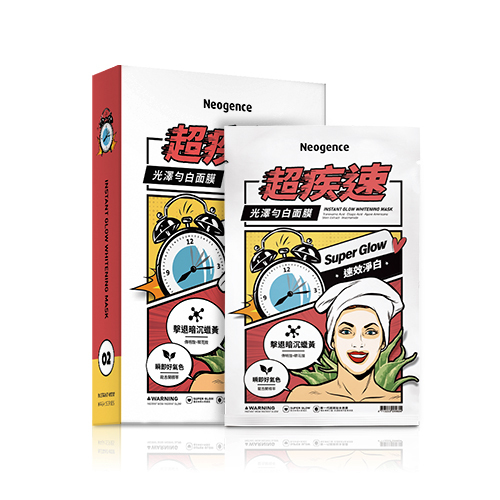 ● Instant Glow Whitening Mask- Double Brightening factors+Niacinamide